Sea Shimmer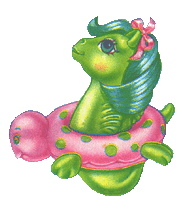 Every day at dusk, Sea Shimmer watches the sun cast its rays over the sea before it drifts into dreamland. Last night, while watching the sunset, Sea Shimmer heard a faint voice calling for help. Following the voice to an inlet, she found a beautiful mermaid tangled in a mound of seaweed. Gently, Sea Shimmer removed the wet grass to free the mermaid. The mermaid whispered her thanks as she dove into the water. The next evening, while watching the sun go down, Sea Shimmer thought about the mermaid. "I wonder what her name is and where she lives?" she pondered. Suddenly, a brilliant rainbow appeared in the sky and a gleaming pearl wrapped in seaweed washed up to Sea Shimmer's tail. When the wave rolled back, the words "See You Soon" appeared in the sand. Sea Shimmer smiled because she had found a very special friend.
Sun Shower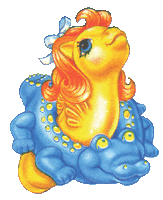 A light mist was in the air as Sun Shower gazed dreamily at the rainbow. "I wish I could touch it,"she said, trying to jump up to the rainbow. Suddenly, she spotted a balloon floating in the sky above her.
She waved her arms back and forth to get its attention. Slowly, Lofty and her balloon came down to greet her. "May I have a ride to the rainbow?" Sun Shower asked excitedly. "Hop in," Lofty laughed.
Sunshower dipped below the water for a second, then jumped onto the riding basket holding a package wrapped in seaweed. Up, up, up they went to visit the rainbow. "We're almost there," Lofty smiled. Just as they reached the first colorful arch, Sun Shower handed the package to the rainbow. "These are for you," she said, displaying sparkling dew drops she had collected especially for the rainbow. the rainbow was so delighted with her gift that it sprinkled an afternoon shower of colorful dew drops for everyone to enjoy.