Baby Gusty
Beautiful leaves were falling from the trees and this gave Baby Gusty an idea! "I'll sweep up all the leaves into a mountain as a surprise for Mama," she thought with excitement! With quick pokes of her unicorn,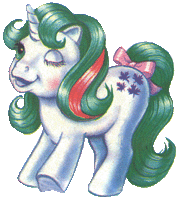 Baby Gusty gathered the leaves into a pile that reached all the way up to the rainbow!
"Whew!" Baby Gusty murmured wearily. "I think I'll stop for a while and play!" She took two giant gallops and leaped high into the sky, landing right in the center of the neat pile! Orange, yellow and red leaves dashed out in every direction. Then they slowly floated down until all Pony Land was blanketed in magnificent fall colors." I'll never gather the leaves again in time for Mama to see," Baby Gusty thought, remembering her surprise. Just then, she saw Mama peeking out from behind a tree with a twinkle in her eye. Taking two giant gallops, she leaped high into the sky, and landed right in the middle of what was left of the pile! For the rest of the day, Mama and Baby Gusty romped with glee in the mountain of leaves!