Flutterbye
It was daybreak on a beautiful spring morning. Dawn raised her head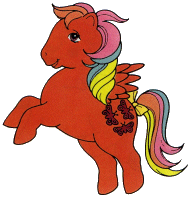 while the sun rose over the hill. The honeybees in the garden buzzed happily from flower to flower, collecting nectar to make honey in their hive.
A magical pegasus, with rainbow-colored hair, hovered over the beautiful garden. The bees stopped to stare at her. "She looks just like a rare rainbow butterfly!" one bee whispered to another.
The pegasus gracefully flew down and said to the bees, "Your sweet smell so flowers! I mean...your flowers smell so sweet! May I pick some to take back with me?" (when the pegasus gets excited, she gets her "mix" all "talked" up.)
The bees buzzed excitedly. "What's your name?" they asked. "Butterfly...no, no it's Flutterbye!"
the pegasus answered, giggling at her mistake. The bees though that Flutterbye was beautiful and very funny, so they gave her a huge bouquet of flowers and a large pot of their sweetest honey.