Year 6
Backcard Stories
Page 3
---
Banana Surprise
Every banana in Banana Surprise's magic banana grove has a tasty surprise beneath its peel. Banana Surprise adds them to the desserts she makes for her friends. Under the scoops of ice cream, layers of toppings and mounds of whipped cream might be a chocolate bar, licorice stick, or gumdrops! It's always fun to see what's hidden in a banana split made by Banana Surprise
Coco Berry
Coco Berry likes to top her double decker ice cream cones with chocolate sprinkles. One evening, while sleepily making herself a midnight snack, she accidentally dropped some juicy
grapes into her ice cream cone then covered them with chocolate ice cream. "DEE-LICIOUS," she thought as she bit into the creamy grape, wondering why she hadn't thought of this tasty idea before!
Crunch Berry
Near the licorice stick forest is a magnificent hill made of rich chocolate. Crunch Berry chips off bits of chocolate from the hill, mixes them with honey-dipped sugar crystals, then lets the gooey mixture simmer in the sunshine for a hot fudge topping that's Sun-sational! Her friends always meet her at the Satin Slipper Sweet Shoppe when Crunch Berry makes her tasty treat!
Peppermint Crunch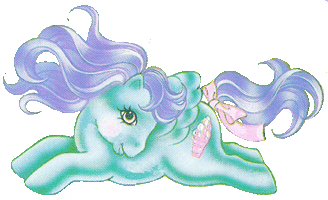 Peppermint Crunch flavors her desserts with the cool taste of peppermint. She mixes together drops of peppermint and a dash of honey, then adds the sweet-smelling mixture to her ice cream.
On summer days, she makes ice cream cones for all her pony friends. The ponies eagerly nibble on the tasty treats, enjoying the cool peppermint flavor as they play in the warm sunshine.
Sherbet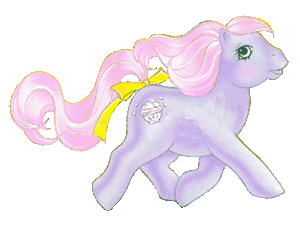 On hot summer days Sherbet flies to a fragrant valley where tropical fruit grows. She fills a basket with fruit and heads to the Satin Slipper Sweet Shoppe to create cool tropical treats for her friends. She adds magical powder to the sundaes so that the ponies taste a different fruit
flavor with each sweet spoonful! They happily agree that this tasty treat is "Sherbet's Surprise"!
Swirly Whirly
Swirly Whirly adds creamy strawberries to all her desserts. The ponies especially like to nibble her strawberry cookies and candies. One day, Swirly Whirly surprised her friends with a special treat. She swirled juicyred strawberries into her ice cream, then made double decker ice cream conesfor the ponies. After they tasted this new treat, they named it "SwirlyWhirly s Sensation."
Return to the Index
Return to Ponyland Tours